Road Show News A Palooza 6/28/17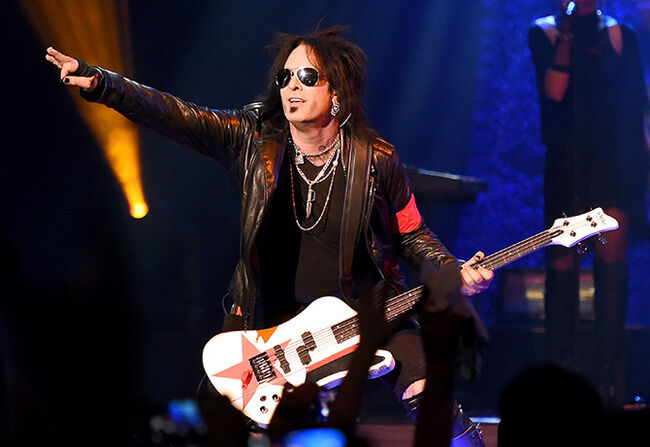 Nikki Sixx To Be A Judge On American Idol?
American Idol's short list of judges includes Lionel Richie and Mötley Crüe member, and 98.5 The Fox night slammer Nikki Sixx. If they sign to join the Idol reboot, salaries will be in the 3 to 5 million dollar range.
Ryan Seacrest met this week with ABC executives.
TMZ reports they're in the final stages of negotiations for Ryan to return as Idol host. One hang up seems to be over an Executive Producer credit. Apparently, Katy Perry was denied that title. So ABC doesn't want to "ruffle feathers" by granting it to Seacrest.
***
It's Miller Time!
Steve Miller started his recording career 50 years ago, and to mark the milestone, Capitol Records and Universal Music Enterprises will release expanded editions of some of his albums.
Miller has given the label access to his archive of music, footage, photos, memorabilia, artwork, handwritten notes, journals and more to include in the upcoming releases. Universal will put out his catalog projects, and new material will be released through Capitol. Miller, as always, will direct the concept and curation of the catalog releases, with the first one being announced soon.
Miller is on tour this summer with Peter Frampton. Their next show is set for Friday in Verona, New York.
***
Doors Anniversary Collection Is Coming!
The 50th anniversary celebration of The Doors' music continues with The Singles Collection.
Due September 15th, the two-CD set (also available in digital) packs all the A- and B-sides of their 20 U.S. singles, plus four mono radio mixes.
Among the notable rarities are several songs released after Jim Morrison's passing in 1971. They include tracks the surviving trio recorded together ("Tightrope Ride" and "The Mosquito"), as well as live selections from posthumous releases ("Roadhouse Blues" and "Gloria.")
A deluxe two-CD, one-Blu-ray edition adds the 1973 compilation The Best of The Doors in Quad on Blu-ray for the first time. There will also be a limited edition vinyl box set with all 20 singles -- including the original sleeve art.
These releases join the previously announced limited-edition seven-inch vinyl single of "Light My Fire" with artwork from its original Japanese pressing. That goes on sale July 28th, 50 years to week the Doors breakthrough single reached number-one.
***
Rick Nielsen's Top 15 Beatle Tracks
Rick Nielsen is a big Beatles fan as evident by the influence in many of his songs and by Cheap Trick doing the entire Sgt. Pepper album on previous tours, as well as their covers of "Day Tripper" and "Magical Mystery Tour."
So it's no surprise that Classic Rock magazine asked him to list the 10 Beatles tracks that changed America, changed music and changed his life. They are:
"Golden Slumbers/Carry That Weight/The End""Helter Skelter" - "I really like the melodic stuff, but also the heavy, crazy, nutty stuff that John Lennonused to come up with... It's like The Sex Pistols before The Sex Pistols.""Lucy in the Sky With Diamonds" - "That one has so many different moods, which makes it difficult to play -- at least it did for me because I'm more of a studio musician.""Sgt. Pepper's Lonely Hearts Club Band""A Day in the Life""We Can Work It Out" - "I love that one because there are different sections: There's pop, there's heavy-duty minor chords and major chords.""Tomorrow Never Knows""Yer Blues""Taxman""She Said, She Said"
In 1979, Nielsen and then-Cheap Trick drummer Bun E. Carlos had the pleasure of playing with John Lennon on the sessions for his last album, Double Fantasy.
***
Hollywood Buzz...
Miranda Kerr has turned over $8.1 million worth of jewelry to the U.S. Department of Justice that she received from Malaysian businessman Low Taek Jho. The Australian supermodel's ex-boyfriend is accused of spending misappropriated Malaysian government funds on "properties, business ventures, yachts, parties, artwork, clothing, jewelry and other luxuries" in the U.S. (USA Today)
Production has begun on Deadpool 2. Ryan Reynolds made the announcement on Instagram, posting a photo and writing, "The sun sets on day 1. Feels good to be back. This dog can hunt."
Hugh Jackman will star as Senator Gary Hart in the political drama The Frontrunner. Hart was the early favorite to win the Democratic presidential nomination in 1988 until a sex scandal sunk him.
Swedish actor Michael Nyqvist, who starred in the original The Girl With the Dragon Tattoo, died Tuesday from lung cancer. He was 56.
AMC has renewed Better Call Saul for a fourth season.

Mike Bell
Want to know more about Mike Bell?
Read more