Ex-R.E.M. singer Michael Stipe has blasted President Trump for his tweets about banning transgender people from serving in the military.
Stipe posted a video on Instagram where he says, "This latest stunt is a political smokescreen, and it saddens me that our friends and patriots in the transgender community are in the sight lines of this reckless decision. Continue to stand firm and proud. We stand beside you and we will not abandon you."
Peter Frampton called and apologized to the fan whose actions unknowingly prompted him to storm off the stage last Sunday in Welch, Minnesota.
Sherry Tupa had no idea that bringing her copy of Frampton Comes Alive to the show and waving it above her head would cause such a firestorm. But that's what happened when a cameraman chose to focus on her, and the video screen director projected her image instead of Frampton's on the screen.
She tells the Star Tribune of Minneapolis he "apologized over and over, [and also] talked about the fact that he did not handle it correctly." He also asked her to send him the album for him to sign... I kind of wish I hadn't done that. It is what it is, I guess."
Frampton performs in Tulsa, Oklahoma tonight (Friday) and he rejoins Steve Miller on Saturday in Thackerville, Oklahoma.
While The Beatles' Sgt. Pepper's Lonely Hearts Club Band is arguably their best album, the movie of the same name is arguably among the worst ever made.
The 1978 musical based on the landmark 1967 album will be out on Blu-ray on September 26th. Starring The Bee Gees, Peter Frampton, Aerosmith, Alice Cooper, Steve Martin and others, it was a critical flop, but has since become a cult favorite.
In 2012, Cooper told Entertainment Weekly, "They dug themselves into a hole because, first of all, you're picking the best Beatles album of all-time and excluding The Beatles. How silly is that? The problem was that I was the only one [of the musicians] who could talk... The only guy that really had any acting experience, I think, was me... There were moments of funny stuff. But the whole premise of the movie was just wrong all the way."
This new release will include audio commentary from pop culture historian Russell Dyball as well as the original theatrical trailer.
Show Biz Buzz!
Katy Perry has signed on to host the MTV Video Music Awards. In a statement, she says, "I've been training with MTV in zero gravity, eating astronaut ice cream, and I'm on a group text with Buzz Aldrin and Neil deGrasse Tyson. Come August 27th, I'll be ready to be your MOONWOMAN! Brace for impact, kids."
Chris Pine is set to reunite with Wonder Woman director Patty Jenkins on the new TNT drama series One Day She'll Darken. Jenkins will direct the pilot (and possibly other episodes). Pine will star in all six episodes of the first season. (Variety)
TBS has renewed Angie Tribeca, starring Rashida Jones, for a fourth season, while TNT has renewed Animal Kingdom, starring Ellen Barkin and Scott Speedman, for a third.
Showtime has greenlit an animated satirical series about the Trump White House, Variety reports. The untitled show, produced by Stephen Colbert, will air this fall.
Jennifer Aniston is returning to TV. She hasn't had a regular gig since Friends ended in 2004.
Now, Aniston has teamed with Reese Witherspoon for a series revolving around a morning TV show based in New York City. Aniston and Witherspoon will star. Because they're blonde and beautiful, they're probably playing morning show hosts.
The Hollywood Reporter said the series is looking for a home, possibly at HBO or a streaming service like Netflix.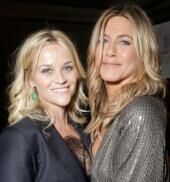 Mike Bell
Want to know more about Mike Bell?
Read more