After finishing his show at the Barclays Center in Brooklyn last (Thursday) night, Paul McCartney put in an appearance at Club Cumming, a gay club in Manhattan.
Joined by actors Emma Stone and Alan Cumming, who owns the club, took the stage to sing "Part of Your World" from The Little Mermaid. Cumming asked the audience not to record with their phones, but "with their hearts."
McCartney also played a few songs on harmonica before taking to the dance floor for a few moves to the music of ABBA, Donna Summer and others.
Cumming and Stone are both in the tennis movie Battle of the Sexes, which opens this weekend.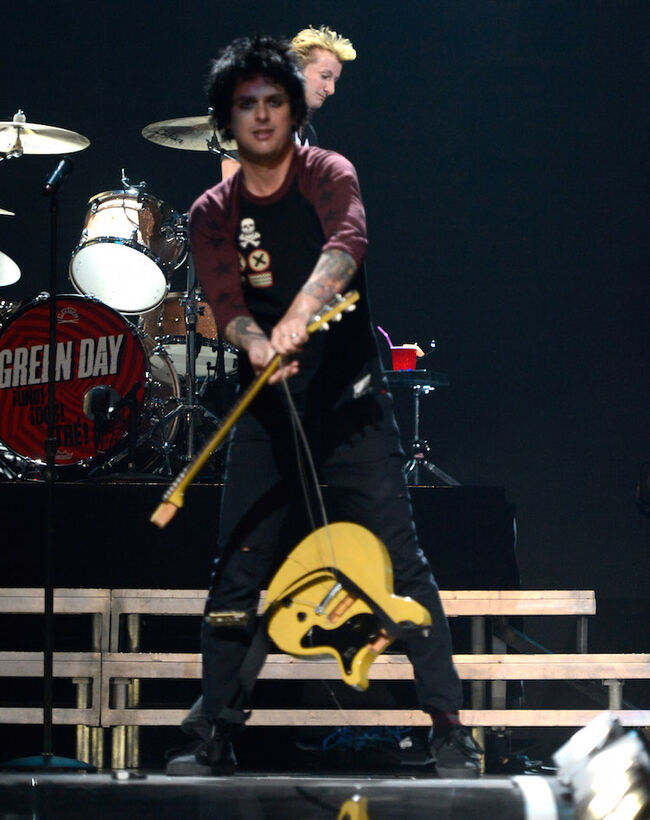 Billie Joe Armstrong of Green Day once again blasted Donald Trump, but this time it wasn't from the concert stage -- it was on Broadway.
He was the guest Thursday night at Michael Moore's The Terms of My Surrender. Rolling Stone reports that Armstrong told Moore, "The first time I heard of Trump legitimately running for President, the first thing I thought of was fascism. I was just thinking of all the buildings he's got his name on. That type of narcissism -- wow, that's not that much different from Saddam Hussein."
Armstrong also had some strong words for the Democrats, saying they don't "have any cojones... You look at what's going on in the Democratic party, I look at some of the people talking, I'm like, I'm looking at you again?! It's a bummer."
Cheap Trick have finally announced what we reported in July -- they'll release a Christmas album on October 20th.
Christmas Christmas nine Yuletide classics originally done by the likes of Wizzard, Slade, Chuck Berry, The Ramones and The Kinks, as well as three originals, including the lead track "Merry Christmas Darlings" and the title track.
CHRISTMAS CHRISTMAS TRACK LIST
"Merry Christmas Darlings" | Robin Zander, Rick Nielsen, Tom Petersson
"I Wish It Could Be Christmas Every Day" | Roy Wood
"I Wish It Was Christmas Today" | Jimmy Fallon, Horatio Sanz
"Merry Xmas Everybody" | Neville Holder, Jim Lea
"Please Come Home for Christmas" | Charles Brown Junior, Gene Redd
"Remember Christmas" | Harry Nilsson
"Run Rudolph Run" | Marvin Brodie, Johnny Marks
"Father Christmas" | Ray Davies
"Silent Night" | Traditional – Franz Xaver Gruber, Joseph Mohr; Arrangement by Robin Zander, Julian Raymond
"Merry Christmas (I Don't Want to Fight Tonight)" | Joey Ramone
"Our Father of Life" | Robin Zander, Rick Nielsen, Tom Petersson
"Christmas Christmas" | Rick Nielsen, Robin Zander, Tom Petersson Like those fortunate enough to attend Led Zeppelin's London reunion show in 2007, Robert Plant enjoyed it -- but that was then and this is now.
He tells Rolling Stone, "It was magnificent. We hit a home run that night, which is something that we were really fearful of. There was probably more riding on that than we would care to believe. Our performance was crucial, but we could reproduce sound in a much more reliable way, so we could be kick-ass, and sound kick-ass."
But these days, he's focused on putting out new music, as will be the case on October 13th when he releases his album Carry Fire. "Anyone who gets tangled up in music and performance wants to keep it going. But by which means do you do it? Cramming the stuff into the suitcase again and playing live? Or is it creativity, another adventure, and trying to impress people who often want to hear how it was rather than how it is? That's what I've been trying to do."
He does keep in touch with Jimmy Page and John Paul Jones a bit. "A cup of coffee from time to time. But nothing intimate."
Not only is a reunion off the table, so is a memoir, which he says will "never" happen. "What I know between my ears here is priceless. It's magnificent, sometimes tearful, but mostly cheerful. There have been highs and lows and a lot of adventure, and I keep it hid."
Plant starts his next tour on November 16th in Plymouth, England.
Show Biz Buzzz...
Tom Hanks will star in an American version of the Swedish comedy A Man Called Ove -- which was nominated for two Academy Awards earlier this year.
Wonder Woman star Gal Gadot will host Saturday Night Live on October 7th with musical guest Sam Smith. Silicon Valley's Kumail Nanjiani will host on October 14th with musical guest Pink.
Netflix has renewed BoJack Horseman, starring Will Arnett, for a season five.
Liliane Bettencourt, the heiress to the L'Oreal cosmetics empire and the world's wealthiest woman, has died. She was 94.
Weird News...
A Florida man showed cops just how he rolls -- by calling 911 to report that someone had come into his home and stolen some cash...and all the joints he'd just rolled.
The Vero Beach man, whose name was not released, dialed cops on Wednesday to say an intruder had entered the home and "stole all my blunts, my girl's cell phone, and like five dollars in quarters." The deputy dispatched to the scene said he didn't see any evidence of forced entry, and the victim admitted he might have left his door open.
When asked to provide a detailed list of the stolen goods, the man upped the amount snared to "about $150," but declined to offer more info about the blunts. (Sebastion Daily)
Pennsylvania cops weren't kidding around when they slapped the cuffs on a drunk dude -- for having an eight-year-old girl to drive his car because he was too wasted to get behind the wheel.
Kevin Michael Cook allegedly forced the girl, the daughter of a friend of his, to take the driver's seat in an attempt to get him across the Ohio state line. The trip didn't go well, with a number of motorists calling 911 to report a reckless driver and one going so far as to cut off the vehicle and yell at the child and Cook.
According to the police report, that driver held the pair at the scene, where the girl told police Cook switched seats her and got into the driver's seat. The 24-year-old was so drunk that he couldn't even complete a sobriety test -- and had to be stopped from falling to the ground while trying. (WPXI)
A Florida man got himself into a bucket of trouble by pulling off a big bank heist -- and then walking right next door to buy himself lunch at Kentucky Fried Chicken.
Samuel Jevon Reaves entered the Wells Fargo branch and told a teller he needed money, but when the teller asked if he had a debit card, he responded, "This is a robbery. Give me all your money in the bank." She handed over about $10,000, which he scooped up and calmly walked out -- crossing the parking lot with another bank employee following close behind.
The 32-year-old went into the KFC, ordered a meal, and took it to a table, where he bummed a cigarette from another diner -- before police arrived to cuff him and charge him with the robbery. (Gainesville Sun)

Mike Bell
Want to know more about Mike Bell?
Read more