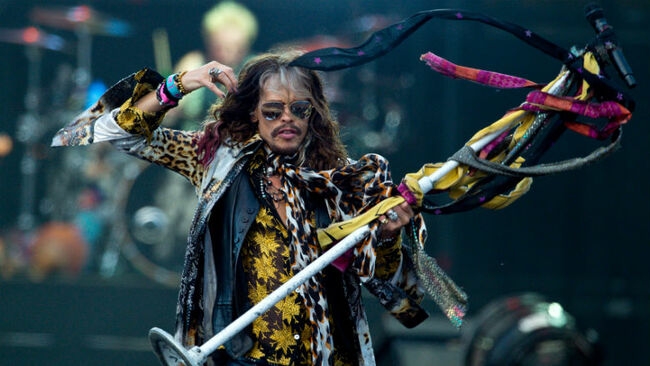 Aerosmith have pulled the plug on the last four Latin American dates of their AeroVederci tour due to Steven Tyler's need for medical care.
He says, "I'm very sorry and feel like I've let you down... I won't be able to continue the last four shows of this tour. I flew back to the U.S. on doctor's orders last night after the show in São Paulo. Please not to worry... I am not in a life-threatening condition, but I need to deal with this right away, and get some rest and medical care immediately in order to sustain and maintain my future performances... I promise I'll be back...unfortunately, health does not wait and it's something even I can't schedule around our shows... As they say, 'We humans make plans, and God laughs...' I love you all and will be back with you soon..."
Tyler has suffered many medical ailments and injuries.
The canceled dates are tomorrow night (Wednesday) in Brazil; Saturday in Chile; next Tuesday in Argentina; and October 7th in Monterrey, Mexico.
It's not a shock that David Bowie and Roger Moore became friends -- both were leading British celebrities who took up residence in Switzerland to avoid the U.K.'s then-sky-high income taxes and drug dealers.
And though we always think of Roger as the suave, resourceful James Bond, he was a pretty lousy neighbor.
In his new book David Bowie: A Life, author Dylan Jones describes how one day, "there's knock on the door" at Bowie's house in Geneva. "Roger Moore comes in, and they had a cup of tea. He stays for drinks, and then dinner, and tells lots of stories about the James Bond films. They had a fantastic time -- a brilliant night." The trouble was that Moore kept coming back repeatedly, telling the same stories, "but they're slightly less entertaining the second time around."
Bowie had enough after two weeks of such dinnertime visits -- and avoided Moore by hiding under his kitchen table pretending not to be in.
Jones notes that in Moore's last 007 film, 1985's A View to Kill, Bowie was offered the part of the villain, Max Zorin -- and turned it down. (Telegraph)
Flea from Red Hot Chili Peppers will be honored for his bass work by Bass Player magazine.
He'll receive a Lifetime Achievement Award at the Bass Player Live convention in Los Angeles on November 4th. He's being honored alongside James Taylor bassist Jimmy Johnson and the late Donald "Duck" Dunn from Booker T and the MG's. There will be an all-star concert after the awards ceremony featuring many of the bassists who are putting on clinics that weekend during the convention.
Show Biz Buzzz...
Idina Menzel married her Rent movie co-star Aaron Lohr over the weekend. This comes nearly four years after she divorced Taye Diggs, her co-star in the stage version of Rent.
Ron Howard's documentary The Beatles: Eight Days a Week — The Touring Years will have its U.S. broadcast premiere November 25th on PBS.
The It sequel will be released on September 6th, 2019.
Nooz Of The Weird!
A Connecticut man went out last Saturday night and already had a pretty good idea how his night would end up based on the T-shirt he was wearing.
38-year-old Nathan Corey was behind the wheel when a police officer saw him drive up on the sidewalk and violate some other traffic laws. He was pulled over, and the cop noticed he was wearing a shirt that contained the equation: "Beer + Beer = Shenanigans." It came as no surprise to the officer that Corey had been drinking, and after he failed a field sobriety test, he was arrested for drunk driving.
But that wasn't all. A search of his vehicle turned up marijuana, drug paraphernalia and a machete, which resulted in more charges. He was freed on $10,000 bail and will have to appear in court next week. (The Smoking Gun)
A Colorado woman got her nose out of joint when she found a scratch on her car while preparing to drive home one day last week -- until she looked closely and found an apology note...attached to a partially smoked joint.
Mandi Shepard says that she was burned up when she saw the damage to her bumper, but decided to shrug it off and drive off -- at which point she noticed someone had fiddled with her side view mirror. When she looked closely, she found that someone had shoved a baggie into the space under the mirror, containing a short note, 40 bucks to partly cover damages, and the half-smoked marijuana cigarette.
In the note, the other motorist said "sorry for being such a dumb-a--," and said he hoped he made up for things by offering the peace pipe. Shepard, who says she doesn't partake because she's a runner, will find a way to pass the joint -- which is legal in Colorado. (KUSA)
Residents of one small Canadian town may have finally found the answer to one of our most timeless questions -- thanks to a chicken who keeps crossing the road to get to her favorite donut shop.
The plucky bird, who lives as a family pet directly across the street from the Tim Horton's location in Shedlac, New Brunswick, heads for the shop in the middle of every morning to peck at the crumbs dropped by customers who eat and run. Sometimes, the chicken needs a hand in crossing the road, other times, cars stop for it, and it legs out the trip itself, waiting as long as needed to make it to the other side.
One customer says "It's a nice plump brown chicken... It clucks, and it screeches and it pecks. [Maybe] he wants a coffee. A double-double!" (Jalopnik)

Mike Bell
Want to know more about Mike Bell?
Read more