Eddie Money is jumping into the reality TV world. He'll star in a 10-episode series for AXS TV.
Production begins today (Thursday) on Real Money, which will focus on Eddie's home life, which along with his wife Laurie, features "eight pets, and five wild and talented children." AXS calls it "as honest and open as it is heartfelt and hilarious, capturing every moment of the family's unique dynamic as they live, laugh, bicker and rock under one roof."
Eddie says, "We may not be the typical cookie-cutter family, but we have a strong sense of love and loyalty for each other that really shines through. It's real, and it's something I think everyone can relate to. We're excited to share our lives with America, as they join us on this wild ride. I've only got two tickets to paradise, but I'm taking everybody!" Heart are mourning the loss of their longtime manager, Carol Peters, from cancer.
Ann Wilson says, "Carol was a remarkable human being. She poured her soul into everything she was -- mother, wife, friend, guiding force, businesswoman and inspiration. Generous, realistic and optimistic, Carol loved completely...so she was loved completely."
Nancy Wilson adds, "Carol was my beloved Jewish mother, matchmaker, deal maker and a ferocious Sunday dinner baker. Carol was a ball of fire in a very small package. She lit up every room she walked into and couldn't help but dance to the music that surrounded her life. She is now an angel among the angels."
In addition to Heart, Carol worked with The Bee Gees, Richard Marx, John Mellencamp, The Cranberries, The Go-Go's, En Vogue, Meat Loaf and Blondie.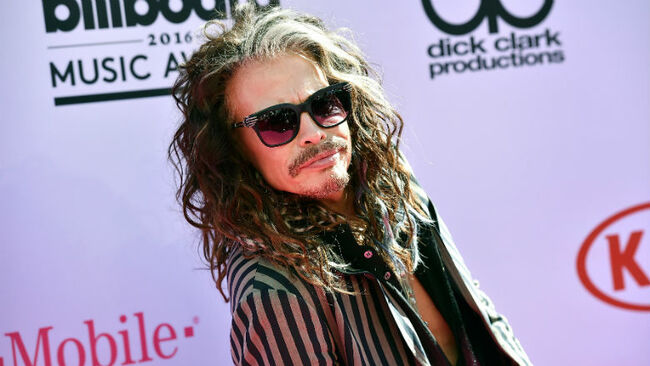 Seven Tyler's medical emergency in South America was a seizure, according to the Boston Globe.
The paper cites a source saying that it occurred after Aerosmith's show in Sao Paulo, Brazil Monday night, prompting him to fly back to the U.S. for medical treatment, and forcing them to cancel the last four dates of their Latin America tour.
On Tuesday, Tyler issued a statement saying he was "not in a life threatening condition," but needed to "deal with this right away, and get some rest and medical care immediately in order to sustain and maintain my future performances."
Aerosmith has had numerous health issues over the years. Tyler has had stints in rehab and various surgeries; bassist Tom Hamilton was treated for cancer; Joe Perry collapsed on stage last year during a show with Hollywood Vampires and has had various surgeries; drummer Joey Kramer has had heart surgery and shoulder surgery, was burned in an auto accident, and sought treatment for a nervous breakdown; and Brad Whitford underwent an operation on his head.
It's hard enough for artists to face audiences looking at their phones while they perform, but The Who faced a far worse challenge at Rock in Rio on Saturday in Brazil.
Brian Kehew, a member of the band's crew, has an online blog. He writes, "There is a zip line to fling audience members across the sky here, not completely unusual, but in this case it goes right across the front of the stage. We're sure it's a big thrill to zoom past your favorite band while they play, but it's damned distracting to the musicians and the audience if you're trying to play something serious. We quietly requested that it not be used during our set, and they agreed to shut it down."
The Who plays in Santiago, Chile tomorrow (Friday).
Show Biz Buzzz...
Meghan McCain has officially joined The View. She's expected to start in October. This comes just days after Jedidiah Bila left the ABC daytime show. (Variety)
The sixth Terminator movie -- with Linda Hamilton, Arnold Schwarzenegger and series creator James Cameron returning -- will hit theaters on July 26th, 2019.
Michelle Williams has joined the cast of the Spider-Man spinoff Venom starring Tom Hardy. The flick opens October 5th, 2018.
Julia Louis-Dreyfus has breast cancer.
The Veep star just revealed the news on Twitter, writing, "One in eight women get breast cancer. Today, I'm the one."
She also used the news to advocate for universal healthcare, noting she has "fantastic insurance through my union. The bad news is that not all women are so lucky, so let's fight all cancers and make universal healthcare a reality."
Julia did not reveal specifics about her diagnosis.
Tributes rolled in overnight from celebrities remembering Playboy founder Hugh Hefner who passed away yesterday at the age of 91.
Hollywood had a very close relationship with Hefner over the past half-century and its biggest stars were often fixtures at parties held at his iconic Los Angeles mansion. Celebrities immediately reacted to his passing on Twitter.
Ryan Seacrest: "Rest in peace #HughHefner - he will forever be remembered as the Hollywood legend who lived life to the fullest."
Kim Kardashian: "RIP to the legendary Hugh Hefner! I'm so honored to have been a part of the Playboyteam! You will be greatly missed! Love you Hef! Xoxo."
Charlie Puth: "Wow...just read the news. Rest In Peace Hugh Hefner. Your legacy and soul shall live on!"
Gene Simmons: "We love you #hef #HughHefner."
Alyssa Milano: "Just woke up to the news that Hugh Hefner died. I think I just assumed he would live forever."
Paris Hilton: "So sad to hear the news about @HughHefner."
Larry King: "Hugh Hefner was a GIANT in publishing, journalism, free speech & civil rights. He was a true original, and he was my friend. Rest well Hef."
Reverend Jesse Jackson: "Hugh Hefner was a strong supporter of the civil rights movement. We shall never forget him. May he Rest In Peace."
Jenny McCarthy: "RIP #Hef Thank you for being a revolutionary and changing so many people's lives, especially mine. I hope I made you proud."
The Weeknd: "RIP HUGH HEFNER."
Rob Lowe: "I had a number of great conversations and with Hugh Hefner. Was such an interesting man. True legend. What an end of an era!"

Mike Bell
Want to know more about Mike Bell?
Read more