The 32 Best Drummers In Rock?
There've been hundreds of drummer jokes over the years, but no one jokes when it comes to putting together a list of the best who've ever played.
British music mag New Music Express, otherwise known as NME is the latest publication to take a crack at it with its 32 of the Best Drummers to Grace Rock 'n' Roll list. A couple of the choices are a bit odd (Both Meg and Jack White? Buddy Rich is Rock?), but they do hit all the usual suspects. Here's the entire list, which is in no order.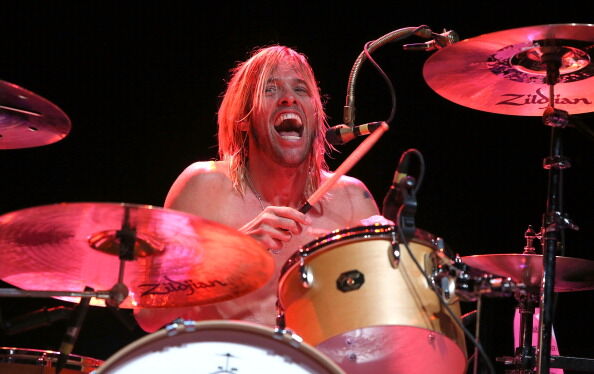 Chad Smith of

Red Hot Chili Peppers
Ringo Starr of

The Beatles
Alex Van Halen of

Van Halen
Dave Grohl of

Nirvana
Taylor Hawkins of

Foo Fighters
Travis Barker of

Blink-182
Neil Peart of

Rush
Mick Fleetwood of Fleetwood Mac
Charlie Watts

of The Rolling Stones
Stephen Morris

of New Order
Phil Collins

of Genesis
Meg White

of The White Stripes
Topper Headon

of The Clash
Moe Tucker

of The Velvet Underground
Dominic Howard

of Muse
Regine Chassagne

of Arcade Fire
John Bonham

of Led Zeppelin
Keith Moon of

The Who
Terry Bozzio of

Missing Persons and

Frank Zappa
Tommy Aldridge of

Whitesnake and

Thin Lizzy
B.J. Wilson of

Procol Harum
Alan White of

Yes
Jack White of

The Dead Weather
Stella Mozgawa of

Warpaint
Janet Weiss of

Sleater-Kinney
Mat Helders of

Arctic Monkeys
Lars Ulrich of

Metallica
Roger Taylor of Queen
Stewart Copeland

of The Police
Ginger Baker

of Cream
Buddy Rich
But where the hell is Animal from the Muppets?!

Mike Bell
Want to know more about Mike Bell?
Read more