Neil Schon Vs The Critics!
Last year, Journey guitarist Neal Schon was fit to be tied when his bandmates took a photo with President Trump, not to mention bandmate Jonathan Cain's religious references on stage.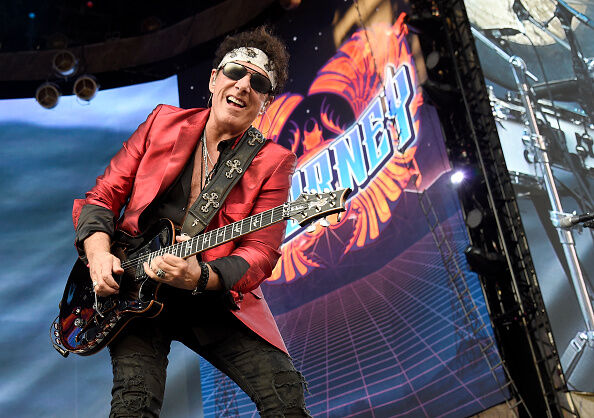 This year, in the midst of a hugely successful tour with Def Leppard, Schon has been going off on security guards not knowing who is wife is, and, his latest rant has to do with the passing last week of Aretha Franklin.
Jay Cridlin, the Tampa Bay Times' Pop Music/Culture Critic, writes, "During Journey's concert [last] Saturday at Amalie Arena in Tampa, guitarist Neal Schon put a momentary pin in the band's parade of hits to perform an extended solo, during which photos of the late Aretha Franklin flashed on screen behind him.
"Schon would like the world to know that this tribute to the Queen of Soul was his idea and execution, not Journey's.
"I know this because he asked me to alter my concert review to reflect it."
Schon writes, "The correct way to say (it is) Journey's Neal Schon did the tribute to Aretha Franklin. That would be honest journalism of what it was and is."
Cridlin wrote, "(Schon) took several extended solos during the show, meandering and mugging it up as his fingers flicked across the fretboard. He put some honest-to-goodness heart behind the last one, just before 'Wheel In the Sky,' as the band scrolled photos of the late Aretha Franklin on the screen behind him."
He says that prompted Schon's publicist, not the band's, to say, "You said that the band scrolled photos of the late Aretha Franklin. The tribute was done solo by Neal himself. It was a tribute from Neal to Aretha. Can you please change the word band to he or Neal? We want to make it clear it was a tribute from Neal to Aretha."
But wait, there's more as Schon took issue with Cridlin referring to bassist Ross Valory as its "founding bassist." Schon says, "I myself started the band with ex-manager Herbie Herbert. Everyone else came afterwards including Ross Valory. You can't rewrite history man. It is what it is."
And Neal, you can't make this stuff up. It's time to just shut up and play.

Mike Bell
Want to know more about Mike Bell?
Read more